Mentor of Artist?Artist! is C.P.Seibt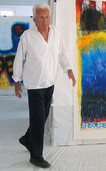 All that I know from my own development: learning, growing, gaining knowledge, working untiringly, triumphs, doubts, listening to authorities, being hurt by destructive criticism and being enticed by applause, but this was not enough.

The crucial factor for me, was to have the desire to create absolutely my own art; which included loving the work of all the marvelous painters before me, respecting their great work and then leaving all that behind me and going my own way.

I needed a long time for this journey. In the past I worked intensively, exhibited successfully and sold many works. I always knew that these works were good, but no more than that. The work was not quiet my own dialect in the language of painting, therefore I continued working, more and more.

Slowly, I discovered that I first had to find out what makes me unique and not first to understand what makes my pictures unique. I tried all possible methods and ways and some impossible ones, working in completely different cultures.
Finally!, I discovered that the answer is actually quiet simple. Exactly then I could release all the knowledge, which I had gained and most importantly the patterns from theories, prejudices and ideologies, the controlled refined techniques and what one must absolutely do in order to be a successful artist.

Suddenly it was easy. Since that time I am simply, surely in my shapes and unrestrainedly fruitful.
More and more frequently other artists, beginners and experienced ones asked me, what was my trick, but there was and is no trick. Thus, I made the first workshop and accompanied others on their way to their uniqueness.
In the meantime I do workshops as often as my time permits and interesting human beings want to experience them. I am again and again inspired by how quickly, intensively and joyfully humans in my workshops reach the point of what makes them unique.
I am also sure that you will succeed.
Cordially welcome,
yours, C.P.Seibt
If you want to read something about me then here or google. But what is said about me it is not me. We will know each other quickly.

I you want to see something of my work, than here. But - my work is not comparible of what you are capable of. And only those are important in our workshop.
Management: Heidi Seibt

Heidi Seibt is CEO from the Nomadic Academy and therefore responsible for their management, projects and processes. She is also organizing the "Artist?Artist!" – Workshops, managing all the organizational part and especially is she taking care to the participants – before, during the workshop and afterwards.
Nomadic Art Academy

In our time of the fast and sharp change, the structures, institutions, education, studies, change themselves inadequatly slow. Learning, living and achieving, the borders of real understanding thereby are unreasonably distorted, difficulties after difficulties.
The Nomadic Academy was founded 1988 and is a network. The NA researches and teaches what human beings need in order to understand and realize change. Who teaches, also learns and vice versa: Teachlearning. Projects, processes and events of the NA take place, where this teachlearning happens.
The results of research and teachlearning systems are to be made accessible for all those who are interested. The faculties Art, Business and Science research, develop and teach together. They finance themselves by their own projects.
The faculty Art dedicates itself to the challenges of the art in the change, those contributions, which can be carried out only by art, those processes in research and teachings, which promote creative achievements of the present.