Are you looking for painting holidays in Greece, art classes or an art workshop?
Did you find us by googling for art courses in Europe?
There is only one goal for this workshop:

You want to create unique art
and you want to achieve this goal in this workshop.

You will reach it.
Certainly.
It is not important whether you are young or older, beginner, advanced or already a professional artist. All those who have the goal to create unique art are welcome.
Artist?Artist! is limited to 8 participants.
In this workshop you'll not learn a specific technique, e.g. watercolor. You'll discover how unique you are able to create. Later on you'll master every technique you need.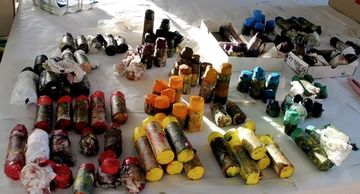 Please check out our big project "Hope & Give".

This is the story of 365 people who will receive a free painting of their hope. The painting is inspired by their specific hope, just for them, created by the artist C.P.Seibt. And they get a second painting to give to someone with whom they want to share their hope.
This art project of 730 paintings is a "social sculpture". It will brighten lives by bringing joy instead of cynicism, replacing despair with hope and focusing on the spirit of giving.